POURYA FEREDI : The Talented Iranian DJ/Producer
Pourya Feredi, also known as Pourya Saedi, is a highly talented DJ and producer hailing from Iran. With his captivating music and unique style, Pourya Feredi has made a name for himself in the international music scene. Let's delve into the life and work of this remarkable artist.
Background and Early Life
Pourya Feredi was born on July 27, 1994, in the city of Mashhad, Iran. From a young age, he displayed a deep passion for music and a strong inclination towards the electronic music genre. Pourya began his journey in the music industry as a trance artist, drawing inspiration from renowned musicians and producers worldwide.
Musical Career and Achievements
Pourya Feredi's discography includes a wide array of tracks and remixes that have been well-received by music enthusiasts worldwide. His music is known for its energetic beats, melodic elements, and entrancing soundscapes. Pourya's dedication to his craft is evident in his powerful and captivating productions.
One of Pourya Feredi's notable tracks is "Shine," which was released on Addictive Sounds. This mesmerizing piece of music showcases his artistic vision and ability to create an immersive experience for listeners 2.
Noteworthy Collaborations and Recognition
Pourya Feredi has collaborated with various artists and labels, further solidifying his presence in the electronic music scene. His artistic collaborations have allowed him to experiment with different styles and expand his musical horizons.
Pourya Feredi's Presence on Streaming Platforms
Pourya Feredi music can be found on various streaming platforms such as Apple Music. His tracks, including "Star Rise (Tritonia 356)" and "Star Riser," have garnered significant attention and praise from fans around the world [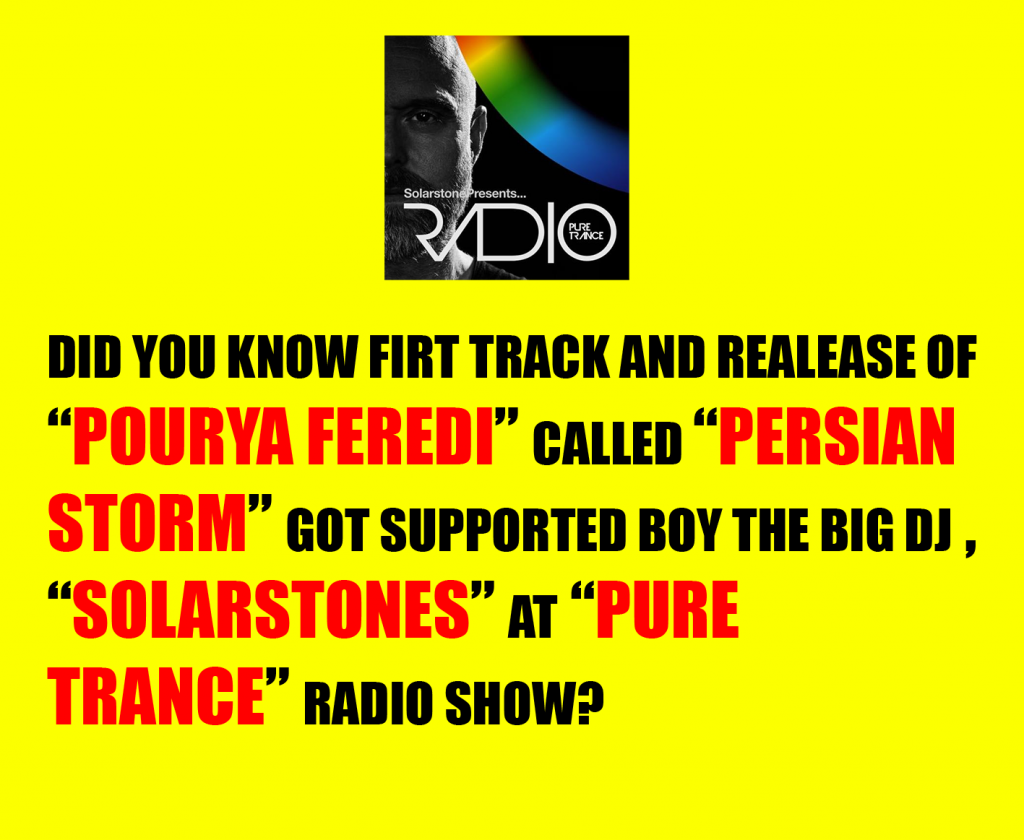 Title: Pourya Feredi: A Journey of Passion, Perseverance, and Notable Achievements
Introduction: Pourya Feredi is a remarkable individual who has carved a niche for himself in the world of Trance Music. This article delves into his early life, career, and notable achievements, showcasing the dedication and talent that have propelled him to where he is today.
Early Life: Pourya Feredi was born on [27/july/199] in [Iran]. Growing up in a nurturing environment, he developed a keen interest in Art and Music from an early age. His supportive family recognized his passion and encouraged him to pursue his dreams. Pourya's insatiable curiosity and thirst for knowledge laid the foundation for his future success.
Career: Pourya Feredi embarked on his professional journey in [2019] when he make his Trance music called :Persian Storm. Since then, he has continuously honed his skills and expanded his expertise. Pourya's relentless dedication to his craft has allowed him to reach remarkable heights in his career.
Pourya's career has seen him [specific career highlights]. He has worked with renowned organizations such as FREEGRANT MUSIC,REDUX RECORDINGS and has collaborated with industry leaders to create groundbreaking innovations. Pourya's ability to adapt to changing technologies and trends has kept him at the forefront of his field.
Notable Achievements: Pourya Feredi's exceptional achievements have garnered him widespread recognition. Some of his notable accomplishments include:
a) His first realse got supported by big dj called Solarstone
b) his work and make music with lots of great labels like freegrant music,Redox Recordings,Addictive Sound,Future Avenue .
c) JES , SOLARSTONE , RUSLLAN RODRIGUEZ ,TROTONAL is a names, who supported Pourys Feredi Music at them radio shows .
Pourya's dedication to his work and his relentless pursuit of excellence have earned him numerous accolades throughout his career. His innovative ideas and contributions have not only elevated his own reputation but have also inspired aspiring professionals in the field.
Conclusion: Pourya Feredi's journey from his early life to his remarkable career and notable achievements is truly inspiring. His passion for Music Produce and DJ has driven him to achieve great heights, and his commitment to continuous growth and innovation is a testament to his character. Pourya's contributions have undoubtedly made a significant impact on Iran Trance Music, and his story serves as a beacon of inspiration for aspiring